Penge Festival Jumble Trail
June 23, 2019 @ 11:00 am

-

5:00 pm
Penge Festival Jumble Trail
The Penge Jumble Trail is back! As requested by the People of Penge.
After a coupe of years lying fallow we have re-initiated the Penge Jumble Trail as part of the Penge Festival.
We want to encourage everyone on any street in Penge to get involved – as it doesn't cost anything to have a stall.  You just need to have a 'pitch' that is off the pavement- so it can be in your front garden, on your drive, out of the boot of your car, in the local community area of your block of flats – (so long its not obstructing the public highway or fire exits). 
We think it a great opportunity to have a home clear out, and do a little bit for the environment through 'jumble
recycling'.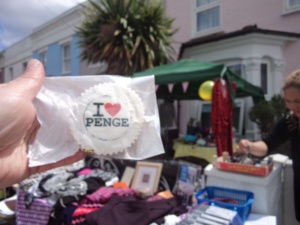 So have a rummage in your drawers, dig out all your unused items of clothing, shoes, linen, kitchenware, toys and books.
Or get down to the garden shed or cellar, or make that long-intended visit to your loft and rake out what you haven't seen or used in the last couple of years.
Please note that all sales must be from your drive or front garden and not on the public paths.  If you haven't got a table then just have things out on display in your front garden or path… or sell from the back of you car like a mini car boot sale (NB it must be parked on your driveway though).
Don't worry if you haven't got much jumble,  why not supplement your jumble sale and get baking, or create some homemade refreshments to sell so that you can entice passers by with your homemade offerings.
Whether you intend to use the trail as a clear out, or want to raise funds for a charity  – its all great in our book – its about recycling, sharing the love and getting involved in your community!
 We just need you register so we can share where the trail is … so email us with your request for a jumble trail pitch.  We will list where jumble stalls are on our Facebook & Twitter pages as well as this site within one week of the event commencing
Sign up roads confirmed inc: 
Croydon Road
Green Lane/Torr Road
Kenilworth Road
Kingswood Road
Kent House road
Melvin Road
Mosslea Road
Wordsworth Road
So get rummaging, get family & friends organised to help or shop and make Penge the Jumble trail to be at!!